Visiting the Wyoming County Schools Spring Arts Gala❓ 🎭🎨🖌🖼🎶🎺🎹 Use our hashtag! 😃 #SHOWCASEWyCoART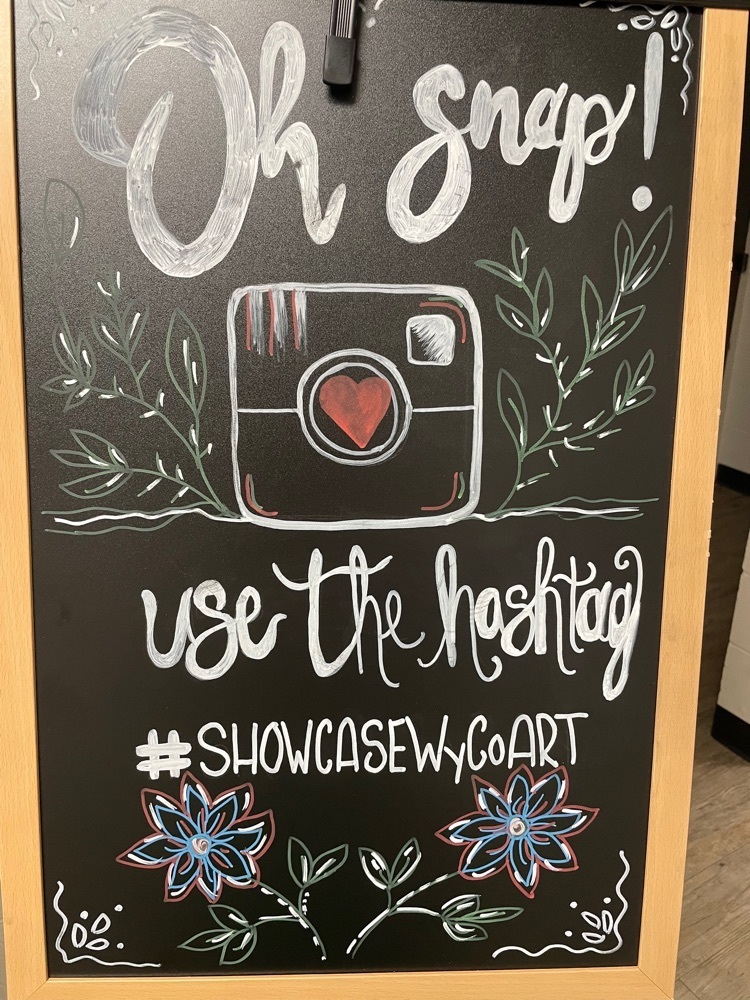 Attention Arts Gala Guests: Additional parking will be available at the Pineville Palisades Park. Entry to the Gala is through the front entrance to the Wyoming County Board of Education at 155 Park Street, Pineville. The Gala is from 5:00-8:00 p.m. We hope to see you soon!

‼️💻ATTENTION💻‼️ At this time, ALL school issued student devices should be returned to school and left there each day unless special permission has been given by the school principal. 💻If your child has not returned his/her device, please do so ASAP! Thank you!!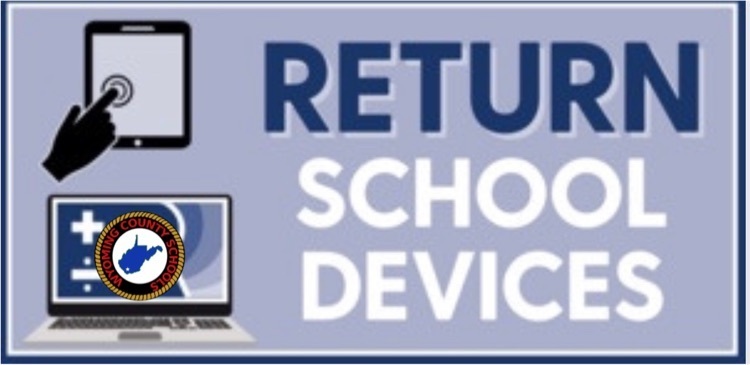 Attention Wyoming County Schools Arts Gala Musicians: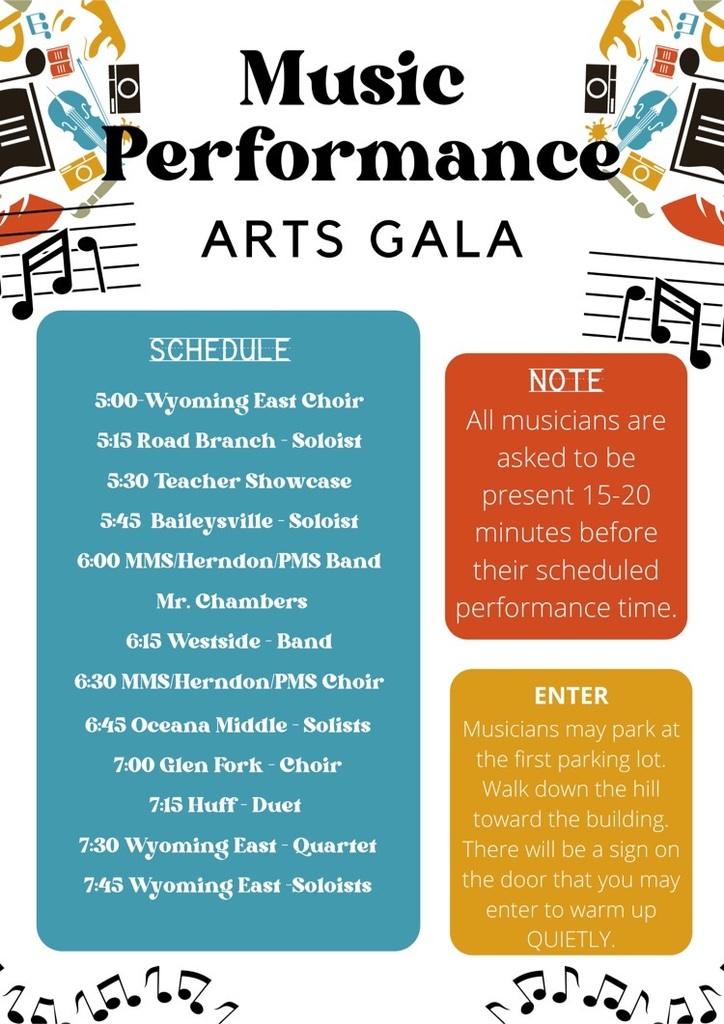 Wyoming County Schools is gearing up for the first annual Spring Arts Gala: Arts in Bloom! We hope you will join us on Tuesday, May 17 from 5:00-8:00. 🌺🎨🖌🖼🎶🎺🎭 #ShowcaseWyCoSchools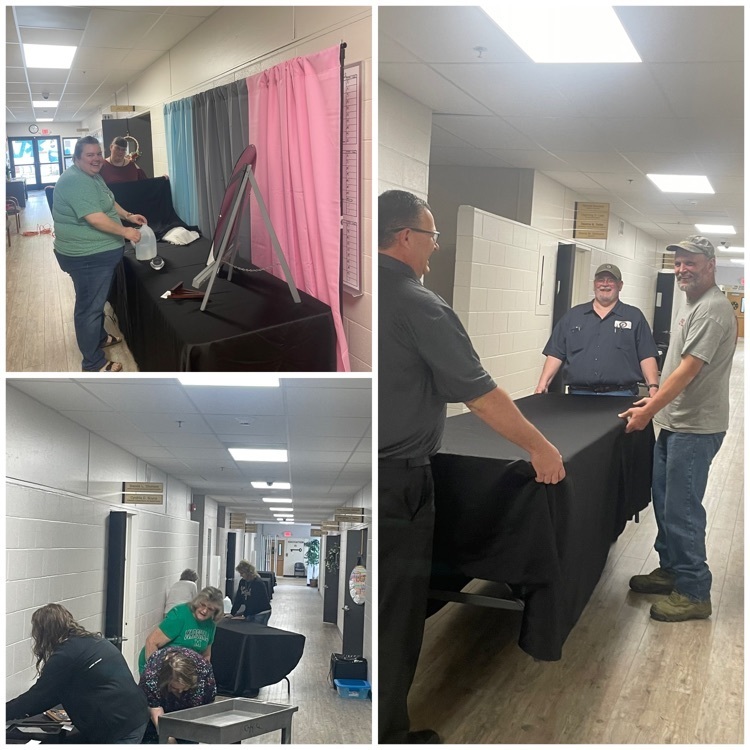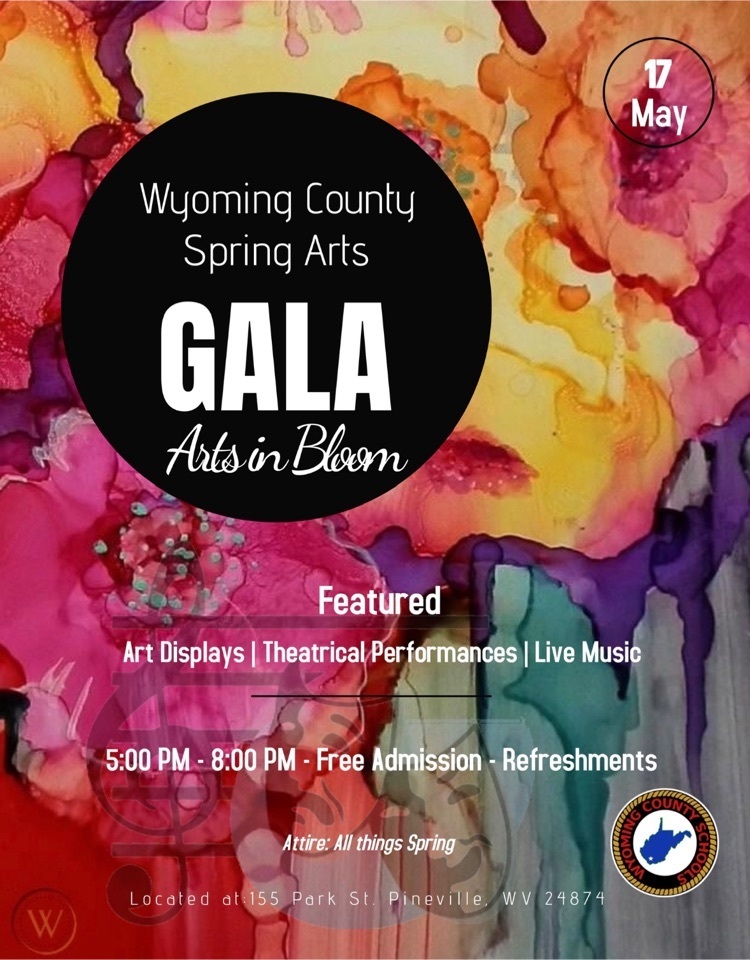 Berlin McKinney Elementary School would like to congratulate our Service Personnel of the Year, Mrs. Linda Allen, and Teacher of the Year, Mrs. Amanda Daniels, for their extraordinary dedication, leadership, and passion they exude for students and staff. You are excellent in multiple capacities, and we are thankful for you! Berlin PROUD ❤️🖤 #ShowcaseWyCoSchools #LoveMyWVSchool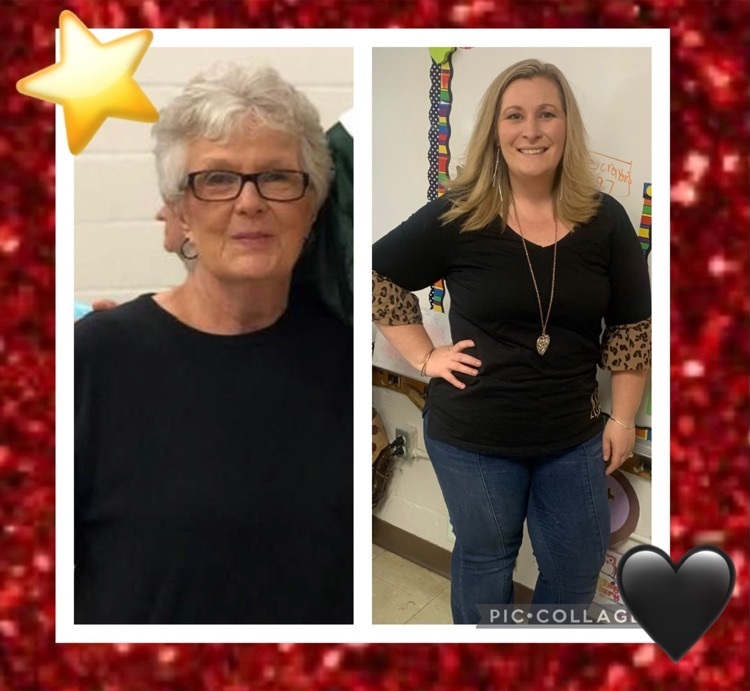 ‼️ATTENTION‼️ There will be NO school for ALL students on Tuesday, May 10 for Election Day and Wednesday, May 11 for a Professional Learning Day. 🗳📚 #InformWyCoSchools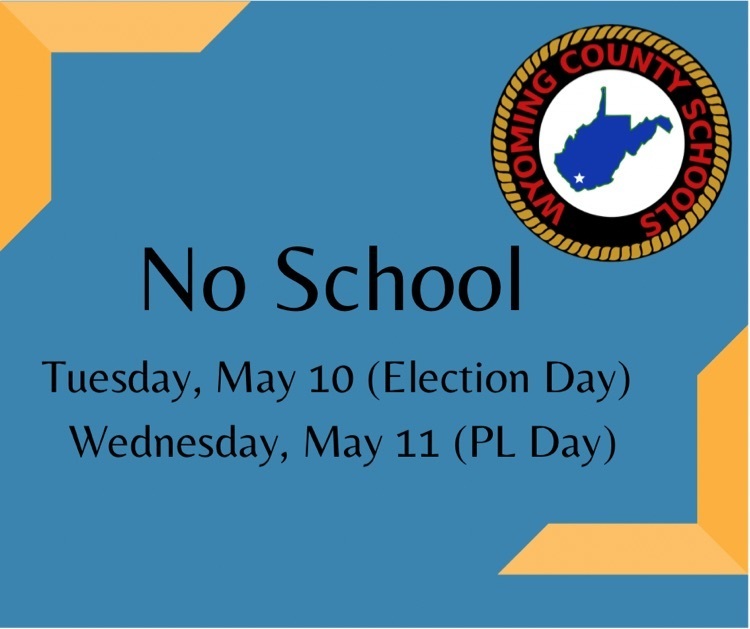 Ms. Ritchie and her 2nd grade class at Berlin McKinney are enjoying hands-on learning in math! Students are working on measuring lengths, counting money, and applying various skills to their new coursework. Way to go, Tribe! ❤️🖤 #ShowcaseWyCoSchools #LoveMyWVSchool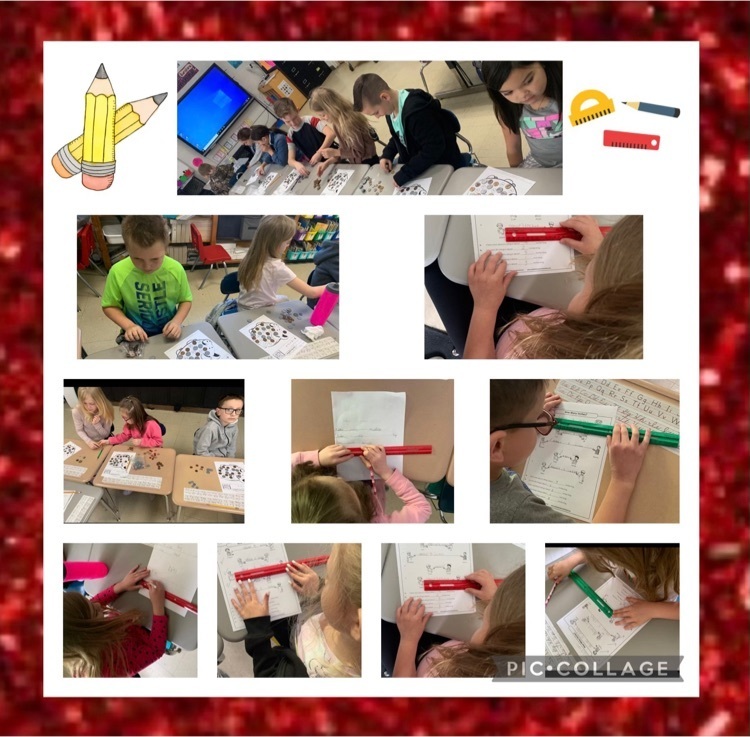 The faculty and staff of Berlin McKinney Elementary would like to thank an incredible Berlin family for providing tacos and desserts for Teacher Appreciation Week! We deeply appreciate the love and support we receive from our generous families. We are always Berlin PROUD! ❤️🖤 #ShowcaseWyCoSchools #LoveMyWVSchool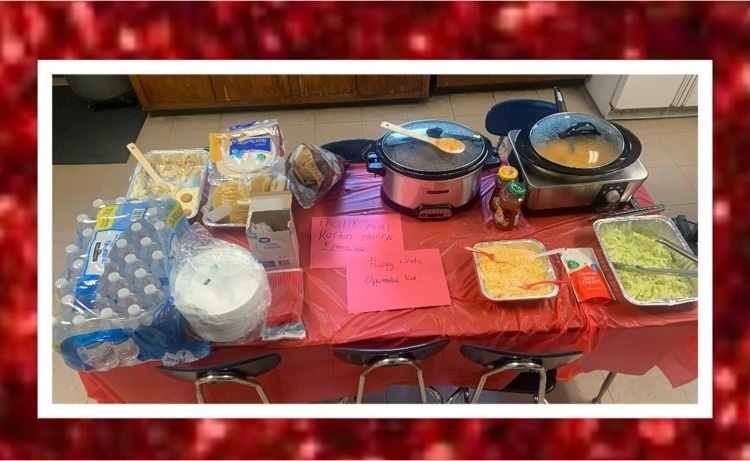 #InformWyCoSchools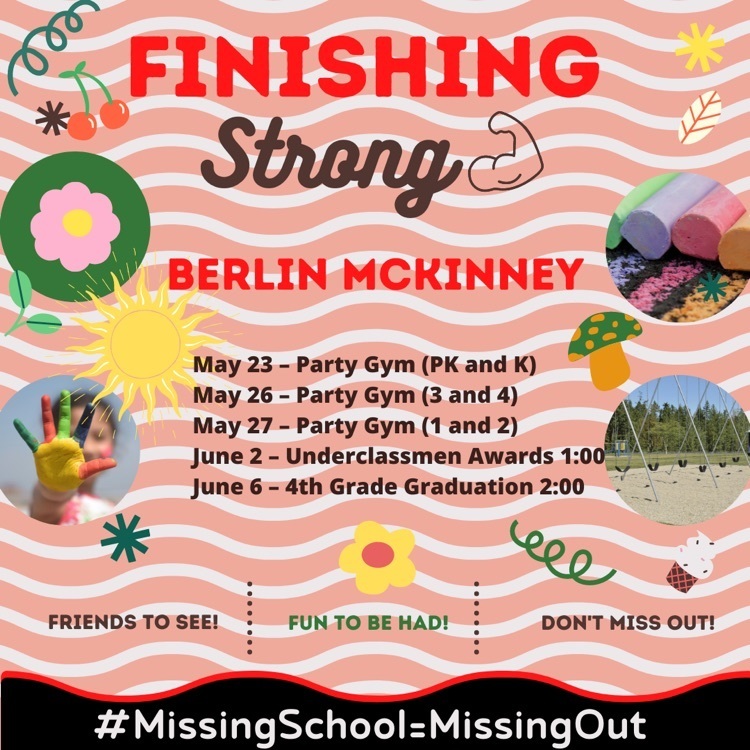 In celebration of Teacher Appreciation Week, we want to thank our incredible teachers for their dedication & commitment to the students of Wyoming County Schools.👏🏼❤️ Teachers are passionate, innovative, kind, generous, honest, inspirational, creative, effective, fair, and so much more! Take a moment to #ThankATeacher and let them know how much you appreciate them. #TeacherAppreciationWeek👩🏽‍🏫👨🏼‍🏫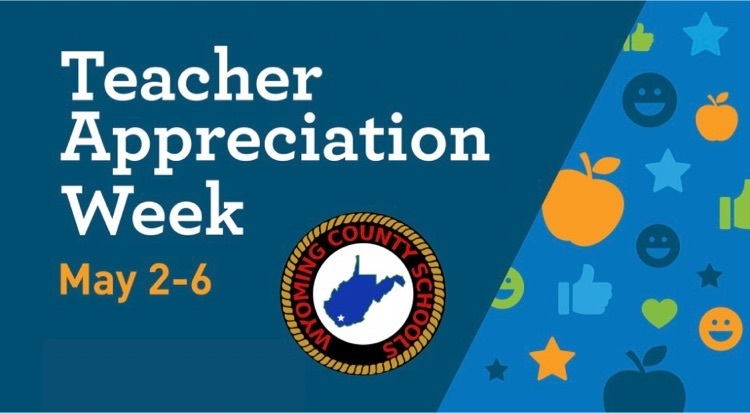 ‼️Reminder‼️ Tomorrow begins WV General Summative Assessment for grades 3 and 7. You have worked so hard this year, and we are confident you will rock this assessment as well!👏🏼💪🏼📄💻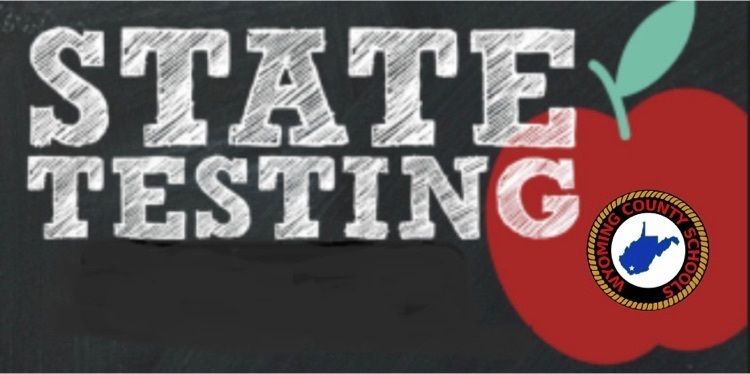 Berlin McKinney Elementary is honored to recognize our beloved secretary, Linda Allen, for her hard work, devotion, and incredible care for our school. Students and staff have continuously benefitted from her years of love, laughter, and dedication. Happy Administrative Assistant's Day to you, Miss Linda! We are Berlin PROUD! ❤️🖤 #ShowcaseWyCoSchools #LoveMyWVSchool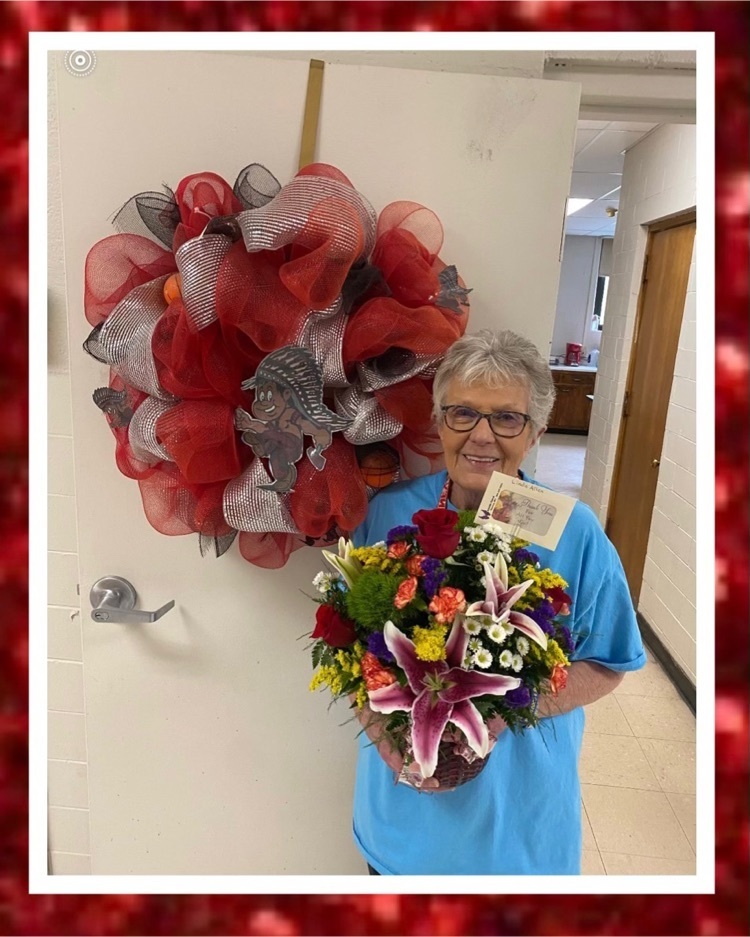 Reminder to Parents and Students: The West Virginia General Summative Assessment will begin on Monday, May 2, 2022. Please encourage your student to perform to the best of his/her ability.📝💻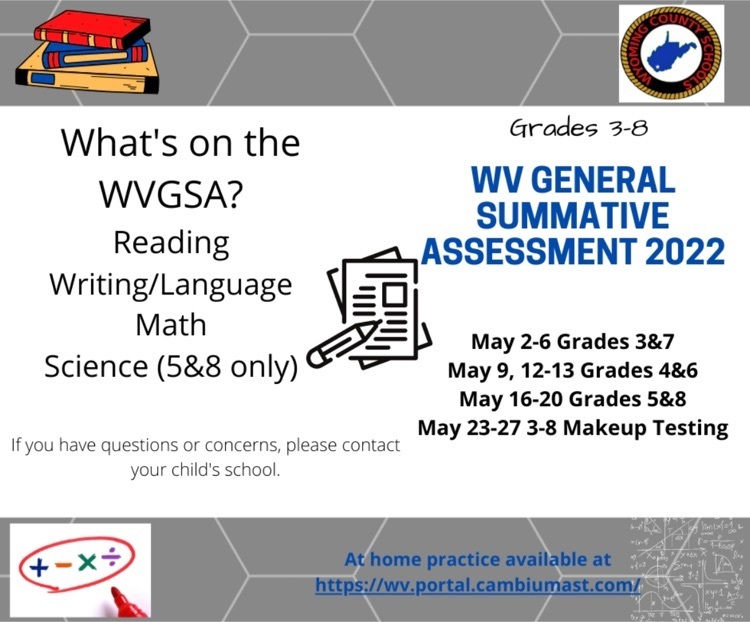 May breakfast and lunch menus! 🍔🥗🥪🍕🍓🍒🍎🍌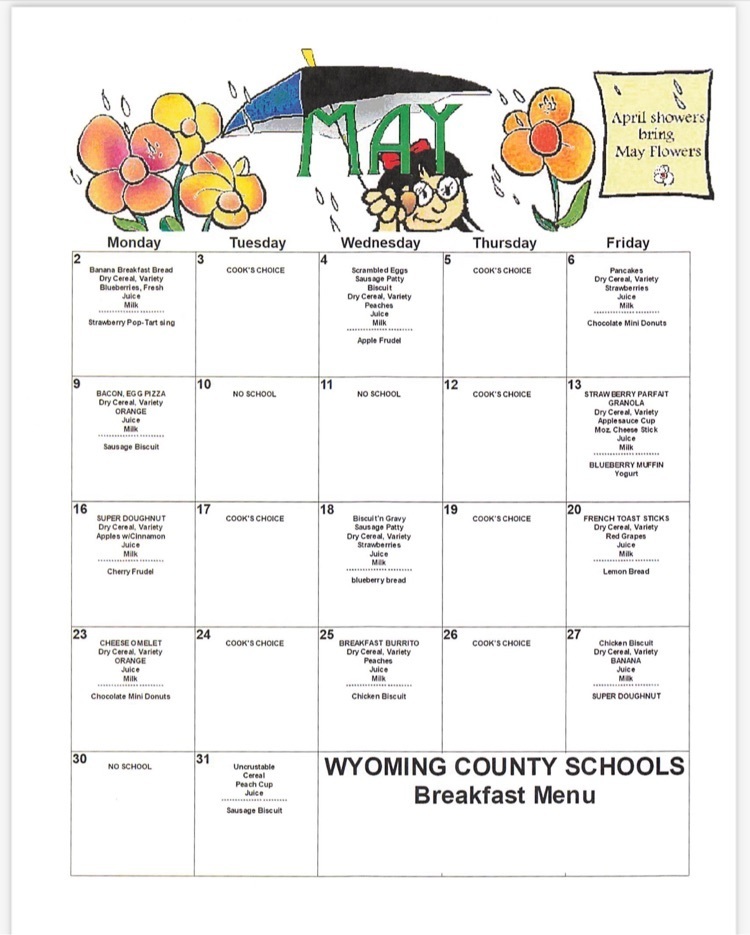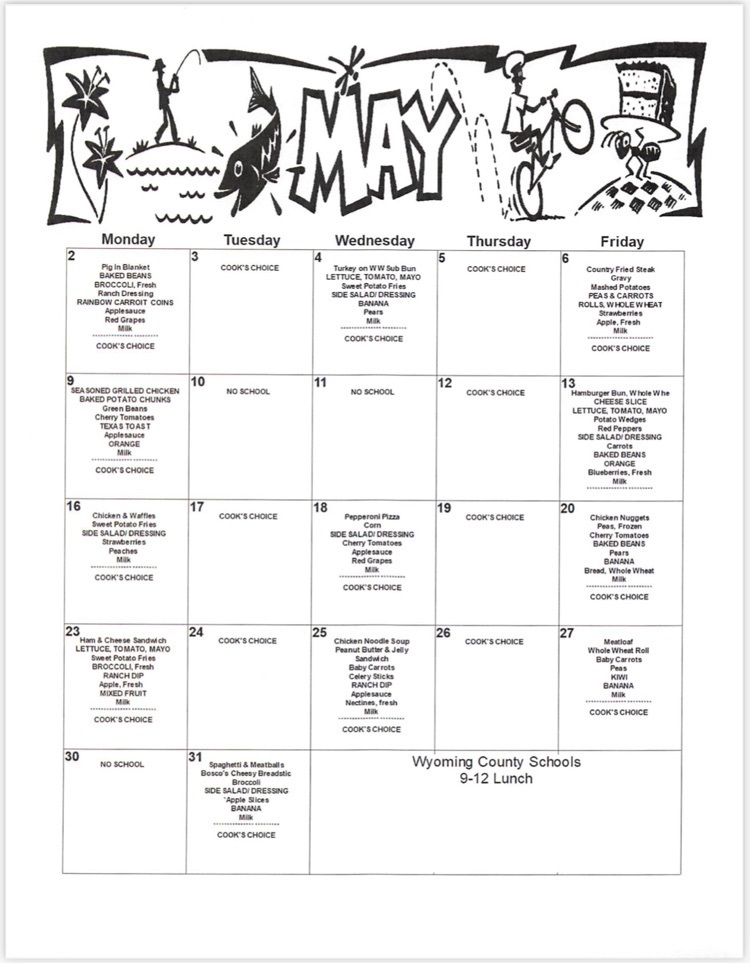 Berlin McKinney's Pre-K students and their families enjoyed a day at The Clay Center exploring, learning, and having fun! 😁❤️ #ShowcaseWyCoSchools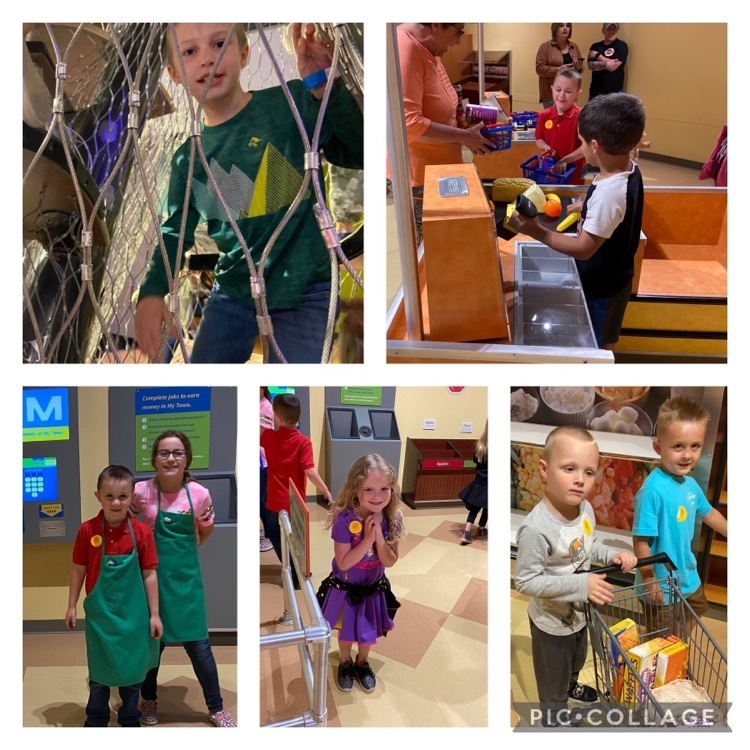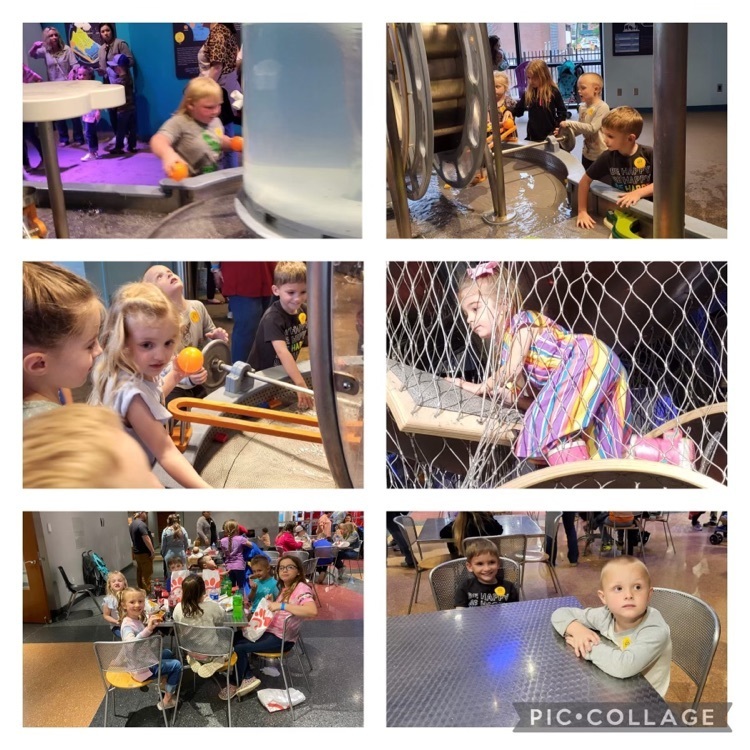 Berlin McKinney Elementary School appreciates the Wyoming County Schools maintenance department for the recent installation of new lettering! Thank you for making this installation a success! Berlin Proud ♥️🖤 #ShowcaseWyCoSchools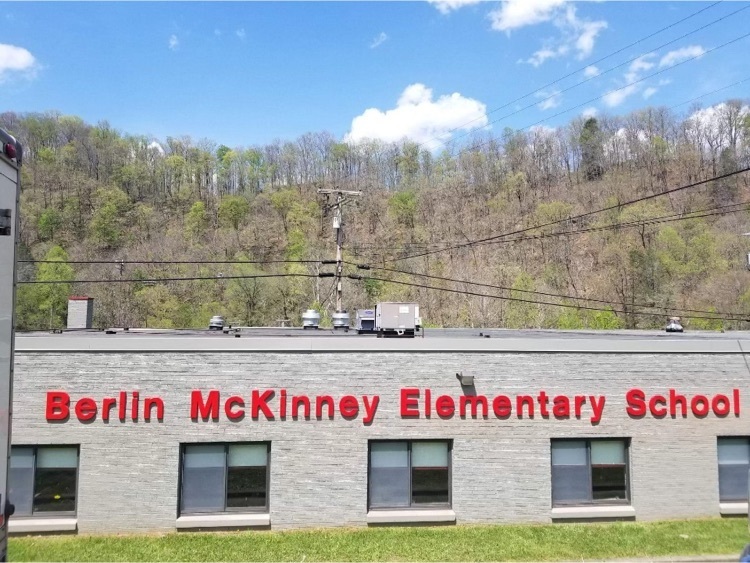 WVGSA FAQs and At Home Practice Instructions.📄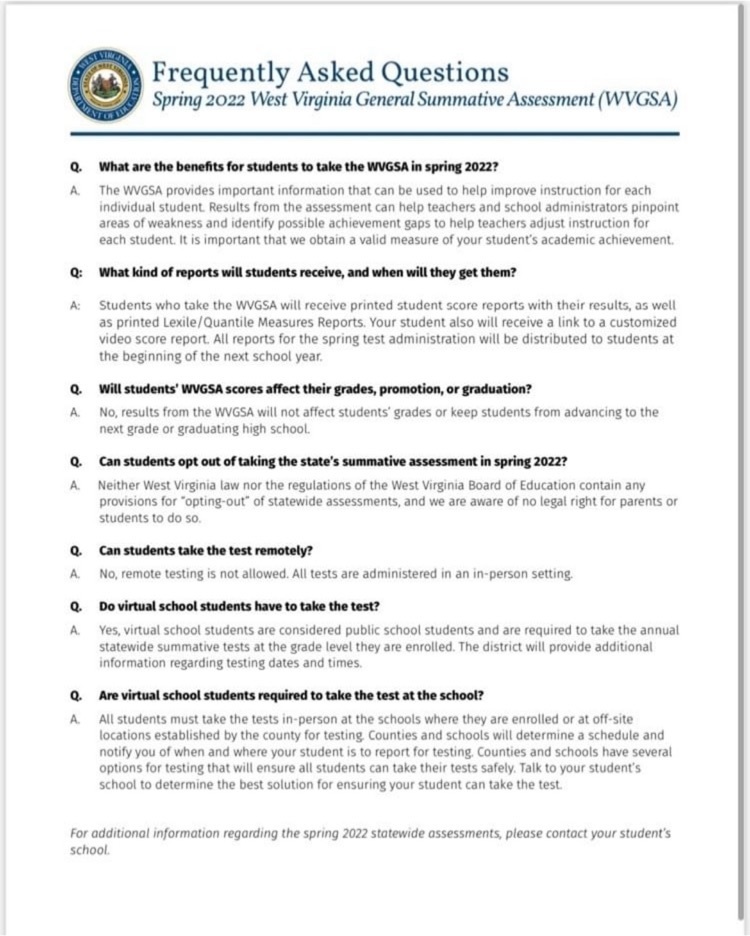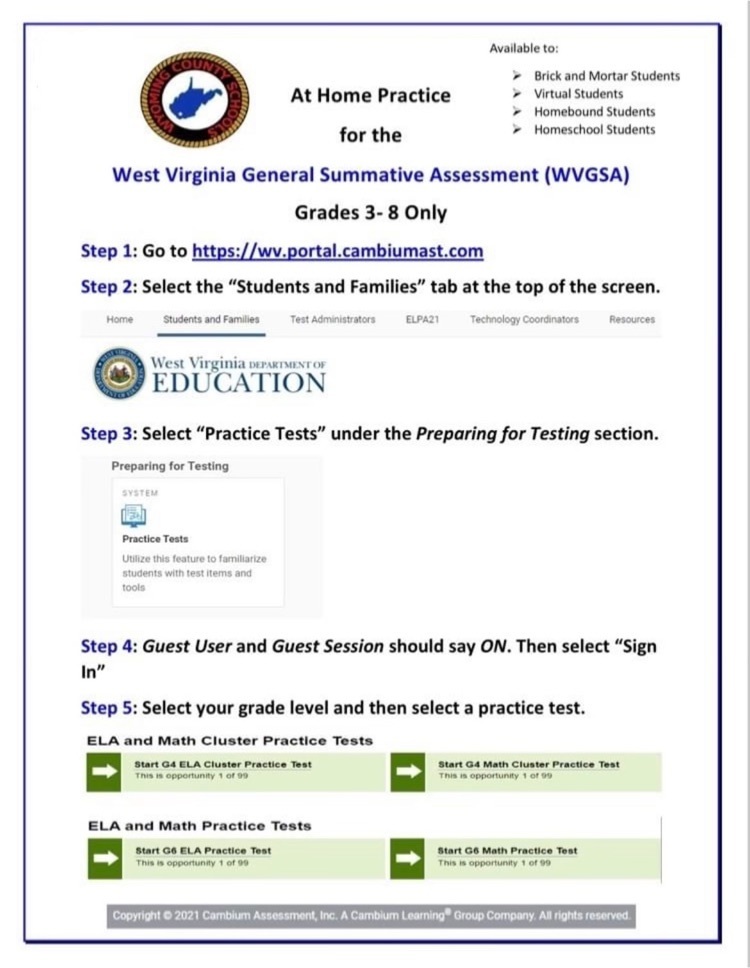 Berlin McKinney Elementary students and staff will be returning to newly installed artwork on the exterior of the building.  An awning installation will be completed soon! We are Berlin, and we're Berlin proud! 🪶❤️ #ShowcaseWyCoSchools #BerlinProud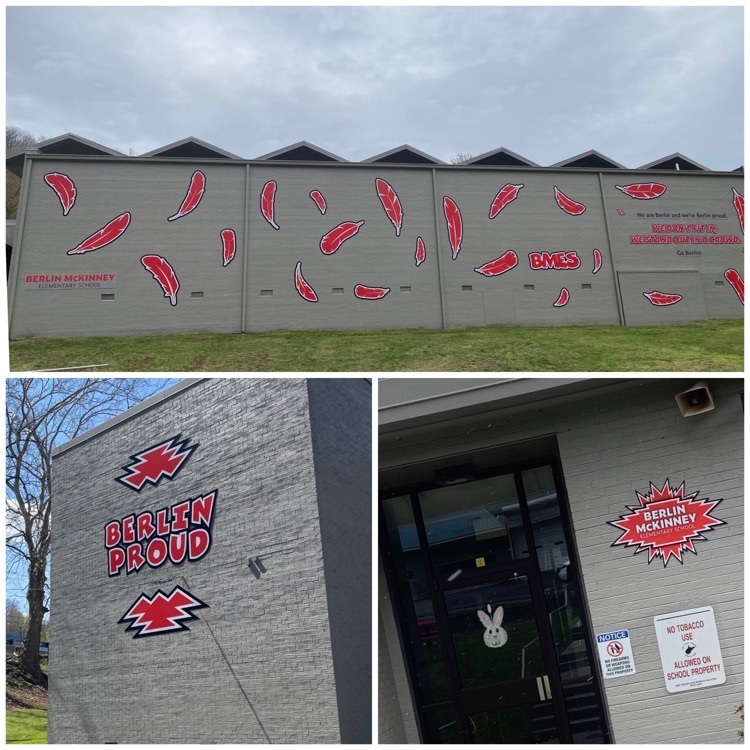 Ms. Ritchie and her 2nd grade class at Berlin McKinney would like to thank Amanda Henry for leading fun Easter activities at school! Our parent volunteers are invaluable! ❤️🖤 #ShowcaseWyCoSchools #LoveMyWVSchool